List of Top 50 Lies From "Fake News" CNN Over The Past Few Years
|
Ever since October 2016, "fake news" has been a hot topic in political news. Near the end of the 2016 presidential campaign, Facebook, Twitter, and mainstream media dissected fake news. Brian Stelter from CNN  was one of the first authors to write about the epidemic early in November.
Stelter made it clear that his audience had to "look no further than Donald Trump's Twitter account" for fake news. In addition to stating people should "triple check before you share," which is a very good rule, Stelter told his readers to "check Snopes." Not only did Stelter refuse to acknowledge any other player of fake news than the Trump campaign, but he openly referred CNN's viewers to a self-proclaimed "fact-checking" website that has many problems.
President Trump has been the most famous and vocal critic of CNN. The commander in chief has called the network "fake news," "very fake news," and "the Clinton news network" many times over the past year.
CNN  has talked about fake news being an epidemic and horrific problem in American media. Their tone has led many to believe that they are the pinnacle of news coverage. However, since the election of President Trump (when the discussion of fake news began), there has been many lies told by CNN.
The following are the top lies, preposterous statements, and shocking actions conducted by CNN over the past years…
CNN Panel Lies About Michael Brown's "Hands Up, Don't Shoot"
Back in 2014, CNN spread the lies of "Hands up, don't shoot!" Even going as far as to protest on live television. This fueled the Ferguson-effect, which led to the rise of Black Lives Matter based on the lie. Michael Brown robbed a store, and intimidated the store clerk on his way out. When approached by the police, Brown reached into the car and tried to steal the officer's gun. Brown did not surrender with his hands up, but rushed officer Wilson instead. Shots were then fired.
Donna Brazile Caught Giving Hillary Clinton Debate Questions
During the historic 2016 election, the head of the Democratic National Committee, Donna Brazile communicated with CNN about debate questions. In a WikiLeaks email, Brazile is seen emailing Roland Martin about questions Hillary Clinton will answer in a town hall. In a separate email, Brazile is seen emailing the Clinton campaign about questions she will be asked.
Asked the DNC For Questions to Interview Cruz and Trump 
In a DNC email published by WikiLeaks, CNN is caught asking many DNC workers for hard hitting questions to ask Trump and Cruz. The email reads: "CNN is looking for questions. Please send some topical/interesting ones. Maybe a couple on Fiorina. Someone please take point and send them all together by 3pm."
Insinuates Reading Wikileaks is Illegal
Just this election season, with WikiLeaks releasing thousands of emails from the DNC and John Podesta, Chris Cuomo claimed that it is "illegal to posses" the emails, and that it "is different for the media." At first it seems as they are only talking about possession of stolen material, but then Cuomo went on to say "everything you learn, you are learning from us," because CNN doesn't want its viewers to read through WikiLeaks and discover the information.
Claims Nothing Found in WikiLeaks Emails
WikiLeaks' release of DNC and Podesta emails were the most interesting part of the 2016 election, as thousands of private conversations were made to the public. Dan Merica of CNN, however, stated that "they're [emails] not much different than the external ones." Merica then wildly claims that "secret transcripts of Clinton's paid speeches behind closed doors on Wall Street have failed to turn up any positions widely different than what she says in public."
Amazingly, the actual emails says the exact opposite. In one of her speeches, Clinton says "You Know, Then People Get A Little Nervous, To Say The Least. So, You Need Both A Public And A Private Position."
In addition, CNN pushed the narrative that the emails were beneficial to Clinton, and showed how caring she was. Merica wrote specifically how emails showed "the campaign deliberated for about 12 hours over a single tweet, about low-wage workers' fight for a higher minimum wage."
Of all things, Merica decided to analyze that subject, not her claims of open borders, public and private positions, how Obama lied about Hillary's server, the fact the Hillary received money from nations knowing they funded terror, or paying people to incite violence at Trump rallies.
Unsurprisingly, Dan Merica was implicated in the WikiLeaks emails for collusion with the DNC.
Edits Video of BLM Rioter Advocating Violence
After the fatal police shooting of Sylville Smith, CNN showed the sister of Sylville calling for peace. "Don't bring that violence here," stated the sister. CNN portrayed the activists as kind and caring to their community. However CNN left out the part where she said, "Burnin down shit ain't going to help nothin! Y'all burnin' down shit we need in our community. Take that shit to the suburbs. Burn that shit down! We need our shit! We need our weaves. I don't wear it. But we need it."
Chris Cuomo Admits CNN Couldn't Help Hillary Anymore Than They Did
During a heated election, President Trump said the media was rigged in favor of Hillary Clinton. Chris Cuomo of CNN confirmed it by saying "we [CNN] could not help her any more than we have… she's got just a free ride so far with the media."
Targets Trump in Fake News Story About Russian Prostitutes
CNN published a story about the Buzz Feed Golden Showers report. The BuzzFeed article claimed the reports were "compiled by a person who has claimed to be a former British intelligence official," and that "the allegations are unverified, and the report contains errors."
So even though BuzzFeed admits that it is an unverified report from someone whom they don't know, they went ahead and published the story.
CNN, on the other hand, justified their story by stating "we reported we had not been able to corroborate [the allegations]."
It is the media's job to publish true, and only true information. It is not the media's job to publish false or unverified information and to let the public decide for themselves. If a story is unverified then it is not to be published because that would go against the conduct of a media organization. The role for media to to give only factual claims.
Don Lemon and Anderson Cooper State Hillary Laughing About Child Rape Case is "Not Authenticated"
Former Trump campaign manager Cory Lewandowski brought up that Hillary "defended a rapist and accused a twelve year old girl of seeking older men." Don Lemon made it clear that Politifact rated it "completely false" and that "the audio tape is false as well."
Anderson Cooper did the same when interviewing Kayleigh McEnany. After McEnany brought up the case and how it was widely reported, Cooper responded "Widely reported doesn't mean anything, not on this network I would point out."
Nevertheless, Hillary Clinton had stated from her affidavit that a victim of rape had sought out "older men," had "engage[d] in fantasizing," and in the past had made "false accusations." Even though Clinton added that children "tend to exaggerate or romanticize sexual experiences," Lemon lied to his audience.
In the audio tape, Clinton spoke of the case: "Of course he claimed he didn't and all of this stuff. He took a lie detector test. I had him take a polygraph, which he passed, which forever destroyed my faith in polygraphs. [laughter]"
Multiple Instances of Live Feeds Stop Working While Interviewing Opposition
CNN accidentally cut the feed of Senator Bernie Sanders after he called CNN "fake news." Unfortunately for CNN, they jumped the gun and didn't realize that Sanders was actually joking and not directly calling CNN fake news himself. However, this isn't the first time that this has happened, so it comes off as more than just a "strange coincidence." Here are 5 other top incidents that CNN will dismiss as awkward coincidences…
Threatened With Lawsuits After Claiming Julian Assange is "Pedophile"
With the release of DNC and John Podesta emails, Julian Assange has received plenty of negative media coverage. On national television, a commentator called Julian Assange a "pedophile who lives in the Ecuadorian embassy in London," with zero evidence. Recently, Assange and WikiLeaks announced "We have issued instructions to sue CNN for defamation … Unless within 48h they air a one-hour expose of the plot."
CNN responded by stating "An analyst on our air earlier today asserted that Julian Assange was a pedophile," and that "CNN has no evidence to support that assertion."
Equates Blacks to Felons 
Ashley Killough and Karl de Vries from CNN wrote a big piece on Trump titled "Trump wants GOP to court Black voters — Then slams voting rights for felons." In the article Killough writes, "Donald Trump acknowledged Saturday that the Republican Party 'must do better' in appealing to African-Americans. But in the same speech here, he again slammed an order by the state's Democratic governor, Terry McAuliffe, to restore voting rights to some convicted felons who have completed their sentences"
CNN, who rightly believes that racism is horrific and wrong, equated black voters to felons in a Trump hit piece that failed.
Calls Berlin Terror Attack a Truck Crash
On the same day that the Russian Ambassador to Turkey was assassinated on live video, a man, who pledged allegiance to ISIS, drove a truck through a Berlin Christmas market. The Islamic terror attack was just one of the many attacks in the past decade, yet CNN described the even as a "truck crash." Although the event was inspired by ISIS and the hateful ideology of radical Islam, CNN thought that the incident was an accident as any other "truck crash" might be.
Calls France Terror Attack a Truck Crash
Earlier that same year, CNN did the exact same move on the Nice, France terror attack. The attack featured a truck once again, after ISIS called for more truck attacks. However, CNN decided not to mention the hateful ideology behind it all: radical Islamic terrorism.
Presidential Election Predictions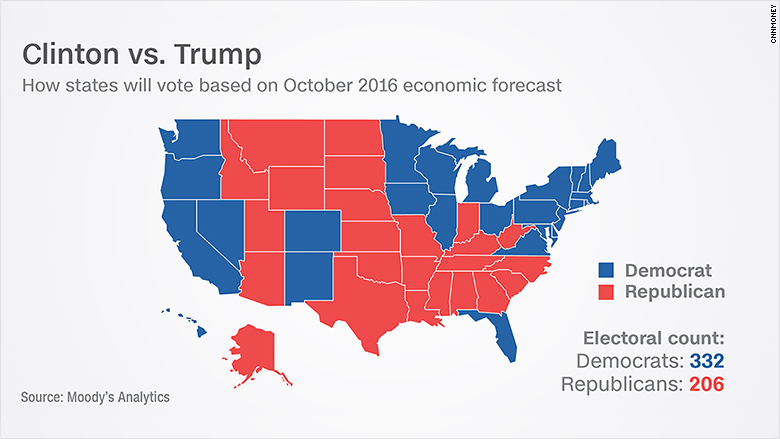 Predictions are the heart of all elections, games, and match ups. Nevertheless, CNN's very own predictions were a little more than "barely off." Using models "Clinton [was] expected to get 332 electoral votes, while Trump [was] predicted to get just 206." CNN also stated that "the U.S. is growing and that favors Clinton. Most Americans can feel their pocketbooks getting better. Moody's predicts key swing states — Florida, Ohio, Colorado and Pennsylvania — all going blue this year."
President Trump went on to win the election with 306 electoral votes, winning Florida, Ohio, Michigan, Pennsylvania, and Wisconsin.
Chris Cuomo Says "Fake News" is Equivalent to N-Word
With the discussion of "fake news," the term has been fired at CNN and reporters by President Trump. On Sirius XM, Chris Cuomo was so offended by the remarks that he sees "being called 'fake news' as the equivalent of the N-word for journalists." Cuomo also added "[it's] the equivalent of calling an Italian any of the ugly words that people have for that ethnicity. That's what fake news is to a journalist," and "the president was not right here and he's not been right in the past."
CNN Falsely added "Racial" to Trump's Profiling Statements
At a campaign rally, President Trump talked about profiling saying "You know in Israel, they profile. They've done an unbelievable job — as good as you can do… It works. If we see somebody that we think could be a problem at airports and other places you talk to them and you see what's going on."
Therefore, CNN decided to run headlines stating that Trump was advocating "racial profiling," yet Trump never mentioned racial profiling. The president simply talked about normal profiling, which deals with taking action against those that are suspicious and causing problems. It seems as though CNN wished to make Trump seem racist by the edit.
Hospital CEO Won Court Trial Accusing CNN of False Reporting
Lawnewz has reported that a former hospital CEO "sued CNN accusing them of purposely skewing statistics to reflect poorly on a West Palm Beach hospital." Attorney L. Lin Wood stated "In our case, we contended that CNN essentially made up its own standard in order to conduct an 'apples to oranges' comparison to support its false assertion that St. Mary's mortality rate was 3 times higher than the national average. Accordingly, the case against CNN certainly fits the description of media-created 'Fake News.'" The hospital has since won the trial over CNN.
Misleads Audience About Inauguration Crowd Size
The day that Trump officially became president, CNN already began comparing his failures to the success of President Obama. First, it was "Comparing Donald Trump and Barack Obama's inaugural crowd sizes," which showed no one near the white building in the back of the mall. A viral photo that went around Twitter was posted at 8:20am in the morning, hours before the noon inauguration. However, CNN's gigapixel image during the actual ceremony showed people backed up to the same building.
At the same time, many protesters prevented supporters from getting into the mall. Independent reported that "at the 10th and E streets in downtown Washington, protesters blocked the entrance to another checkpoint." The Hill also reported that "Protesters demonstrating against President-elect Donald Trump blocked Inauguration Day security screening checkpoints in Washington, D.C., early Friday morning." Many were unable to get into the live ceremony, and those that did were delayed by the protests.
Claims Nancy Sinatra Not Happy About Trump Using Father's Song
Publishing an article titled "Nancy Sinatra not happy Trump using father's song at inauguration," CNN tweeted out the news to the public. Nancy Sinatra then called CNN out on Twitter, "That's not true. I never said that. Why do you lie, CNN?"
Lies About Trump Mocking Disabled Reporter
Donald Trump's hand gesture was actually a recurring performance of Trump. Jeb Bush, and Ted Cruz have also been victims of this type of mocking from Trump. Until now, Jeb and Cruz, despite being labeled as "low energy" and a "liar," have not been publically diagnosed as disabled.
In fact, Serge F. Kovaleski, the reporter that was mocked by Trump doesn't even have a spastic impairment. Kovaleski only has arthrogryposis, which is a congenital joint contracture, and doesn't have involuntary movements. So, it is an insult to Kovaleski to imply that he is mentally challenged and has spastic movements.
Interviews Their Own Cameraman as Protester
After President Trump won the electoral college on November 8th, people took to the streets to protest the results. One man in particular was furious and wanted Hillary Clinton to "sue the United States of America" for losing. The man was a random protester off the street that CNN decided to interview. Until Don Lemon then broke the case stating "I know that guy. That's John Grkovic. He actually went to Africa with me as a cameraman."
Don Lemon Says Kidnappers Are "Not Evil"
After four blacks kidnapped and tortured a handicapped teen and recorded it live on Facebook, Don Lemon had some thoughts about the vile actions. Discussing punishment of the teens, Lemon stated he "[didn't] believe it was evil." Believing that kidnapping, harassing, scalping, and torturing a person isn't evil raised many eyebrows.
Coaching Focus Group With What to Say During Interview
After one of the three presidential debates, CNN interviewed a focus group to see how the debate went. Caught on a hot mic, the interviewer can be heard reciting to the interviewee what Clinton said about America, that "America is great because America is good." The woman then repeated back those same talking points once the cameras were rolling.
Edits out "Crooked Hillary" From Trump Tweet
In his tweets and rallies, President Trump often referred to Hillary Clinton as "Crooked Hillary" for her corruption. Since Trump mastered the social media network, CNN was forced to show tweets as part of their news. The original tweet in questions reads, "I think that both candidates, Crooked Hillary and myself, should release detailed medical records. I have no problem in doing so! Hillary?" However, CNN decided to edit out the "Crooked" for Hillary's sake.
Jim Acosta Causes Havoc at President's Press Conference
After calling CNN "fake news," President Trump wouldn't give Jim Acosta and the organization a question then decided to move onto other reporters. On the contrary, Acosta didn't want to move on and continually asked "Mr. President, since you are attacking our news organization, will you give us a question?" Even after moving onto a new reporter, Acosta kept interrupting the press conference. After havoc arose in the room, Acosta finally realized he was being rude to other reporters and stopped. It took him too long for a professional at work.
Don Lemon Stutters to Come Up with Evidence of Institutional Racism
After 3 officers were killed and  3 were wounded in Baton Rouge shootings, CNN's Don Lemon had Sheriff David Clarke on to talk about police violence. Lemon started the segment by clarifying that "we don't know if [anti-police rhetoric] was the cause" of the shootings.
David Clarke began by asking "Do we know that generally the american law enforcement officers are racist?" After a long blank stare from Don Lemon, Clarke continued, "this whole anti-police rhetoric is based on a lie. There is no data, and you know this, there is no data, there is no research that proves any of that nonsense. None"
Confused, Lemon had to ask what Sheriff Clark was talking about. "That law enforcement officers treat black males different than white males in policing these urban centers," added Clarke.
Astounded, Don Lemon stuttered back "there is data…. t-the president… t-the president spoke about it." Then, when asked to "condemn the anti-police rhetoric," by Sheriff David Clarke, Don Lemon said "as a journalist sitting here on television, I don't have to condemn anyone."
Finally, Sheriff Clarke asked Don Lemon "was the situation between Mike Brown and Darren Wilson police brutality?" Once again, Lemon struggled to answer stating "we're not talking about Mike Brown and Darren Wilson." Nevertheless, Don Lemon eventually caved and said "the justice departments show that it exonerated officer Darren Wilson."
Don Lemon Allowed to Say N-Word on TV But No One Else
Don Lemon has been one of the most controversial hosts of CNN on the topic of race. One time he held up a sign that said "nigger," to prove a point of "controversy," another time, he said aloud "nigger" and "nigga please!"
Nevertheless, when Brooke Baldwin interviewed Charles Kaiser, she had a different reaction. Kaiser was criticizing Trump, telling him "don't choose as a White House Counselor a man who uses the word nigger." However, Baldwin was so stunned that she had to stop Charles and tell him "please don't use the n-word on my show." Charles Kaiser then reiterated the he was simply "quoting someone," yet it still wasn't enough for the host.
"The more I've sat here and realized that some used the n-word on this show… [sigh]… it is not okay," shunned the host in a motherly tone. At the end of the segment, Brooke Baldwin was nearly in tears because some simply said the n-word in a quoting manner (which happened to be fake on its own). No one had that reaction when Don Lemon used the word on CNN.
States Illegal Immigration Isn't Illegal
The discussion of illegal immigration was made much more popular with the rise of President Trump. "If it weren't for me, you wouldn't even be talking about illegal immigration," Trump said at the first GOP debate in Cleveland. Therefore media organizations have had to report about illegal immigration at least slightly more than usual. CNN wrote a nice piece about the subject and said that it was "not necessarily" illegal. CNN then went on to say that it is "not a violation of federal criminal law" to "enter the country legally on valid work or travel visa[s], and end up overstaying."
CNN may have forgotten that breaking the law is a crime, thus illegal.
Says Frog is Hate Symbol
Political commentary was so extravagant during the 2016 election that CNN dedicated coverage to a frog. CNN stated that "Pepe the frog" was a  "white nationalist symbol." Instead of dedicating coverage to policy, CNN was talking about how a fictional green frog was a hate symbol. Emanuella Grinberg wrote a full piece on the cartoon on CNN's website. The article went into depth about the history of the character and how it was "designated a hate symbol by ADL."
Incites Violence Against Trump to Keep Obama in Power
Days before the inauguration of President Donald Trump, CNN was reporting about how "disaster could keep Obama cabinet member in oval office." Practically stating to all the anti-Trump movement that if they don't want the Trump administration taking over then here is the steps to insure that. The report discussed who needed to be "killed" in order for this all to take place.
Of course disaster is always a possibility, however, CNN was broadcasting it like its breaking news, and the most important information of the day to take in. CNN was practically inviting an assassination attempt.
Lies About Popularity on Inauguration Day
After the inauguration, President Trump wrote to Twitter, "Congratulations to @FoxNews for being number one in inauguration ratings. They were many times higher than FAKE NEWS @CNN – public is smart!" Nevertheless, CNN responded in a tweet saying, "According to Nielsen cumulative numbers, 34 million people watched CNN's inauguration day coverage on television. 34 million watched Fox News."
CNN's use of "cumulative" numbers was the only possible way to manufacture more popularity. This math would account for the same viewers multiple times. In addition, it would account for the thousands of stores nationwide that air CNN multiple times to match Fox News.
To accurately portray viewership, it would be best to compare views from 12:00pm, the time of the actual ceremony, not that night.
According to Business Insider "the numbers from Nielsen" show that "Noon to 12:30 p.m. (oath of office and inaugural address): CNN: 3.375 million total viewers" and "Fox News: 11.768 million total viewers."
Racializes News Alerts
CNN has been known to racialize every type of news story. This especially happens for their headlines and news alerts. Inciting that racism was the cause for the death of a man, rather than let the readers figure out by reading the case.
Manipulates President Trump's Words About Veterans
CNN's Tom LoBianco wrote a piece titled "Donald Trump: Military suicides happen to service members who 'can't handle it'." Immediately the headline went wild as many believed that Trump took aim at the weak veterans for not handling it 'like a man.' However, the misleading and manipulative titled was far from the words that President Trump spoke with.
President Trump spoke about veterans saying, "When you talk about the mental health problems, when people come back from war and combat and they see things that maybe a lot of the folks in this room have seen many times over and you're strong and you can handle it. But a lot of people can't handle it. And they see horror stories. They see events that you couldn't see in a movie, nobody would believe it."
The President then went on to state the increasing need to help the veterans making sure that "the whole mental health issue is going to be a very important issue when I take over and the V.A. is going to be fixed in so many ways but that's going to be one of the ways we're going to help."
Uses Video Game Footage For 'Election Hacking'
Reporting on the infamous "Russian hacking," CNN decided to use computer hacking code for their background. Everything was all perfect, except the fact that the background was from a video game, Fallout 4. Perhaps CNN should focus on using actual photos rather than fictional fantasy video game footage to convey their point that people used code to hack the election.
Van Jones Says Trump Victory Was White-lash
CNN commentator Van Jones called the the election of President Trump "a nightmare." Jones went on to say, "you tell your kids: Don't be a bully… don't be a bigot.. do your homework and be prepared. And then you have this outcome."
"You have people putting children to bed tonight, and they're afraid of breakfast. They're afraid of 'How do I explain this to my children?' I have Muslim friends who are texting me tonight, 'Should I leave the country?' I have families of immigrants that are terrified tonight," continued Jones.
"We haven't talked about race. This was a 'white-lash' against a changing country … against a black president in part. And that's the part where the pain comes."
Caught Joking About President Trump Dying in Plane Crash
"Sue, he's landing any minute," a background voice said, "if I do 'this' he's landed." "Good," Malveaux responded back.
Then a voice says, "That means his plane's crashed." Voices can be heard laughing off the joke of the President dying in a horiffic plane crash. Since it was CNN and was just a joke, it is okay to kid about the death of the President.
Emailing Questions to Audience Members for Townhall
During the CNN debate between Bernie Sanders and Ted Cruz, something unusual was spotted. The event was a town hall format, where people from the audience ask the two senators their own questions rather than a moderator asking all of them. When a woman from the crowd got up to ask her question, she read from a piece of paper to make sure she got her question correct. That paper so happens to be an email labeled "Your question."
Why in the world would she email herself "your question"? With CNN faking so many other things, this appears to be yet another. Fake audience. Fake questions.
Errol Lewis Spreads Hoax of Trump EO Causing Death of Michigan Woman
Commentator Errol Lewis spread a fake story over the air on CNN. Sitting down with Carol Costello and the CNN Newsroom, Lewis talked about Trump's immigration moratorium, that prevents immigration from terror stricken countries. Lewis discussed how "these so-called 'bad people' who had to be kept out" are "children, they're elderly people, they're patriots, they're members of the military, they're, you know, grandmothers." He continued stating , "They're people who in at least one tragic case wasn't able to come here for medical treatment, and died, you know."
The case that Lewis was referencing to was the incident where a man claimed "he and his family were stopped while trying to return from Iraq." Due to not being able to get into the US, "his mom passed away in Iraq."
Nevertheless, the story was fake. Fox 2 of Detroit issued a note making clear that the man lied.
Implies Man Died Due to Trump's EO
Keith Allen and Andreas Preuss from CNN were the ones to report online that a "man dies after breaching security at Honolulu Airport." The article stated clearly that "the unidentified man forced his way through the exit lane of the security checkpoint and gained access to an area where ticketed passengers were waiting to board." Although it was unfortunate that someone died, he committed a crime.
The headline for that same article on the sidebar of CNN's website was much different. "Man dies after being detained at airport," read the ticker. This comes after loads of conversation over Trump's travel moratorium, which states that people from 7 terror counties cannot enter the United States. Those that attempt to will of course be detained. The headline from CNN immediately implies that the man was detained due to the executive order by Trump, and headline-readers will never know the truth due to the misleading title.
Don Lemon Gets Drunk on Live TV Broadcast
Don Lemon hosted CNN's New Year's show for 2017. However, things went too haywire. Lemon got drunk, wished for a nipple piercing, then had to have his mic cut after saying "2016 was awful."
Banned in Indiana YMCA After Complaints of "Fake News"
An Indiana YMCA had so many complaints about CNN that they decided to ban it from the televisions in their gym. A statement from the clinic states, "In order to eliminate perceived political bias associated with national news outlets, the Valparaiso Family YMCA will only be showing local news channels in the future."
Even a local YMCA realizes the political bias that CNN brings to the table.
Lies About Gateway Pundit Quote
CNN's Shannon Gupta published an article stating that "sites designed to trick people," like the "Gateway Pundit" published a "debunked claim" that "PepsiCo (PEP) CEO Indra Nooyi told Trump fans to "take their business elsewhere.'" Yet, the claim by CNN is bogus and a lie. Gateway Pundit never published the fake quote.
The network stated that "The Gateway Pundit posted three articles on Pepsico CEO Indra Nooyi's offensive remarks after Donald Trump's victory," and that "Not one of The Gateway Pundit articles quoted Nooyi as saying Pepsico CEO Indra Nooyi told Trump fans to 'take their business elsewhere.'"
After having Gateway Pundit reach out to CNN, there was a edit stating, "Editor's Note: An earlier version of this story characterized Gateway Pundit as a website 'designed to trick people.' That was not accurate."
Manipulates Trump's Comments to be Anti-Semitic
CNN's Eli Watkins writes on February 16th, "Trump tells Jewish magazine's reporter to 'sit down,' blames anti-Semitism on 'the other side'." From the headline, it seems as though President Trump is a major hypocrite for yelling at a Jewish man to sit down! Then outrageously blames the other side! Once again, CNN's sensational headlines were misleading an manipulative.
Jake Turx told the president, "I haven't seen anybody in my community accuse either yourself or anyone on your staff of being anti-Semitic," and wasn't saying President Trump was anti-semitic, yet wanted to know "how the government is planning to take care of it."
President Trump responded to the lengthy question saying "He said he was going to ask a very simple, easy question. And it's not. Not a simple question, not a fair question." After Turx tried to continue, Trump told him "OK, sit down, I understand the rest of your question."
CNN's article states that "President Donald Trump called a Jewish reporter a liar, told him to sit down and later said anti-Semitism was coming from 'the other side.'" Not once in the article did Watkins explain why Trump accused him of lying.
"See, he lied about, he was going to get up and ask be a very straight, simple question. So, you know, welcome to the world of the media," said Trump in his joking manner.
Uses Fake Misleading Photos as Featured Headline
In an article titled "Protesters outside Trump's first thank you rally: 'I will not stand for you'" Elizabeth Landers and CNN discuss the revolt against President Trump. The article featured a photo of a large protest with people marching. It conveyed a sense of realness that people are getting to the streets to riot against the president. It appears as though America is furious. However, the photo was misleading. It wasn't even of the protest. The photo was from months before and was used previously by Vox, in a piece called, "White people: what is your plan for the Trump presidency?"
Even thought the Vox article radically talks about how Trump is a white-people problem, and how "10 out of 10 white people benefit from white supremacy,"  it shows that CNN used a misleading photo for a narrative.
Says Milo Yiannopoulos is Trying to Convince Colleges that Hate Speech is Cool
In a piece on Milo Yiannopoulos, CNN's Dan Lieberman stated that Milo made "disparaging remarks about Muslims, minority students, members of the transgender community and other groups." Coincidentally he gave no evidence or explanation whatsoever in his article. Dan then goes on to say that "his tour has coincided with a flurry of hate crimes around the country following Trump's election victory," as if Milo is the reason for the crimes. Coincidentally there have been a plethora of hate crimes that have be falsified by the regressive left. Dan justified that Milo was a hateful bigot because some random "transgender UC Davis student" was "fearful of his potential effect on her classmates."
The article never defines "hate speech," what these crimes are. Instead it goes on about how horrid Milo is with misconstruing the reason he exists in the first place.
Controversial speech is free speech. So called "hate speech" is also free speech.
It wasn't a op-ed piece on CNN's site. CNN blatantly stated that their anger for Milo and the movement that opposes their network.
Lies that FLOTUS Melania Trump Did Not Meet Akie Abe in Japan
CNN started reporting how Melania Trump ditched the Japanese Prim Minister's wife, Mrs. Akie Abe as she visited the US. CNN described how "Melania Trump appears to be breaking with this particular tradition." Many reports from CNN continued the trend of "solo touring," showing the disrespect of Melania Trump.
On the contrary, White House reporter for Bloomberg, Jennifer Jacobs reported "Melania and Mrs. Abe arrived by SUV as Trump, Ivanka, Jared arrived by Marine One for departure to Florida." Then later Melania Trump and Akie Abe visited Japanese gardens together for some alone time to talk.
Says Hillary Clinton Stumbles After Passing Out 
On September 99, 2016, Hillary Clinton spoke on ground zero. The blistering heat sent her into a freenzy with pnemonia, and she was taken to a van for her health. CNN described the even as, "hillary Clinton stumbles." However, Clinton didn't stumbled.
Hillary clinton passed out and had her feet dragged across the pavement on a perfect 60 day with a n overcast she was then chucked into a van like a side of beef and driven off to Chelsea's apartment. What happened that day wasn't a "stumble" but a serious health event.
Runs Fake News Story About Russia Closing Schools
CNN published an article stating that "Russian authorities ordered the closure of the Anglo-American School of Moscow" in relation to President Obama's sanctions against Russia. Russian Foreign Ministry Spokeswoman, Maria Zakharova quickly denied these widespread remarks from CNN. "That's a lie," stated Zakharova, "apparently, the White House has completely lost its senses and began inventing sanctions against its own children."
Marc Lamont Hill Says 'Mediocre Negros' meeting with President Trump
After meeting with black figureheads, such as Steve Harvey, Kanye West, and Pastor Darryl Scott, CNN's Marc Lamont Hill called them 'mediocre negros.' " it was a bunch of mediocre Negroes being dragged in front of TV as a photo-op for Donald Trump's exploitative campaign against black people," stated Hill.
Suggests Black Hole Responsible for Missing MH370 Flight
With Malaysia Airlines Flight 370 disappearing, CNN decided to look into theories of the Bermuda Triangle and black holes. "I know its preposterous, but is it preposterous you think?" asked Don Lemon. The guest then responded letting Lemon know that the entire theory is beyond crazy saying "a small black hole would suck in our entire universe." However, even her response was mind numbing. A small black hole wouldn't suck in the entire universe. There are millions of black holes in the universe, black holes do not suck in all matter of the universe.
Perhaps it was a slow news day for CNN, but believing that black holes are responsible for missing planes is slightly crazy for a "reliable news network."
Fakes Broadcast in Same Parking Lot
One of the more infamous moments of CNN's fake news career started back in 2013. Nancy  Grace was discussing a "decade-long" crime story with Ashleigh Banfieldon. The two were in different locations, therefore, a satellite split screen was used by CNN. However, it was soon discovered that they were in the same location when the same bus passed through both their backgrounds. In fact, outside analysis showed that they were only 6 parking spaces away from each other.
Edits Clinton's 'Bomb' Quote While Bashing Trump 
After an explosion in New York, Trump and Clinton took to the mics to discuss the tragedy. Trump told his rally crowd "Just before I got off the plane, a bomb went off in New York and nobody knows exactly what's going on." Immediately, he took heat for calling it a "bomb"
CNN took the opportunity to make clear that "Trump made the statement before local officials had publicly confirmed details," and "typically, national political figures use caution," but Trump did not.
It was also added that Clinton responded to Trump's 'bomb' remarks. Jeremy Diamond of CNN wrote, "asked about Trump's response, Clinton said: 'I think it is important to know the facts about any incident like this. … It is always wiser to wait until you have information before making conclusions, because we are just in the beginning stages of trying to determine what happened.'"
However, Clinton stated in that same response that she had "been briefed about the bombings in New York and New Jersey, and the attack in Minnesota."
In fact, CNN continued to leave that part out on their national television coverage.
Lies About Secret Service Talking to Trump About 2nd Amendment
CNN's Jim Sciutto reported that "A US Secret Service official confirms to CNN that the USSS has spoken to the Trump campaign regarding his Second Amendment comments." President Trump replied back to the allegations that "No such meeting or conversation ever happened." 
Reuters later denied CNN's reports stating "a federal official on Wednesday said the U.S. Secret Service had not formally spoken with Republican Donald Trump's presidential campaign."
CNN themselves admitted that according to their sources "it's unclear at what level in the campaign structure the conversations occurred."
Blurs Out Trump Shirt During Interview
CNN's HLN interviewed a Trump supporter who was wearing a Trump shirt, however, the network thought it was best to blur the sensitive content for their viewers.
Claim's Trump Encourages Voting More than Once
Taking a shot at Donald Trump, CNN claimed that the republican candidate encouraged "voting more than once." Unfortunately, CNN forgot to include the full context of the statement.
"If you go to university center, they'll give you a new ballot, they'll void your old ballot. They'll give you a new ballot, and you can go out and make sure it get's in. Now in some places, they do that four or five times, but we don't do that. So by tomorrow, almost everyone will have their new ballots in," said Trump at his rally.
Caught in the lie, CNN adjusted their headline and article "to accurately reflect Donald Trump's statement about mail-in balloting in Colorado."
CNN Canceled 'Dr. Drew' After Drew Pinsky Questions Hillary's Health 
In August of 2016, Dr. Drew Pinsky stated that Hillary's health problems were "bizarre." During an interview Dr. Drew told McIntyre In The Morning "the very medicine the doctors are using may be causing this problem, and they're using an old-fashioned medicine to treat it. What is going on with her health care? It's bizarre."
Pinsky also added that her condition "is brain damage, and it's affecting her balance," and "that the care she's getting could make [her health] a concern."
Just later that month, CNN officially canceled Dr. Drew's show.
Makes Fun of How Trump Eats and Ignores Gas Attack in Syria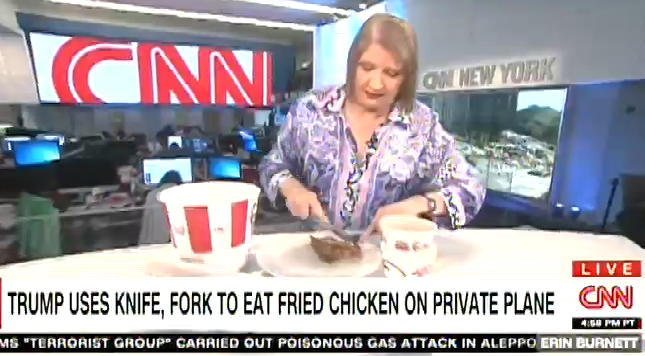 While a "poisonous gas attack in Aleppo" was on the bottom ticker, CNN decided to prioritize discussion on making fun of how Trump eats fried chicken.
CNN Publishes Misleading Headline About Trump and Howard Stern
Midway though 2016, CNN published an article titled "Howard Stern says Trump backed Iraq War in 2002." However, Stern had much to say about the bogus headline. "So, then there was a big screaming headline on CNN — 'Howard Stern Now Confirms.' There's a picture of me and Trump in an adversarial-type situation," Stern said on his show.
Robin Quivers then said "You didn't confirm anything!" "Yeah, that 'Howard Stern now says that Trump is lying about…'"
"Yeah! This was on CNN. Big headline and they brought people in. They were having a discussion — a panel discussion. And I was sitting there and I… I don't know how CNN came up with that headline," Stern groaned back.